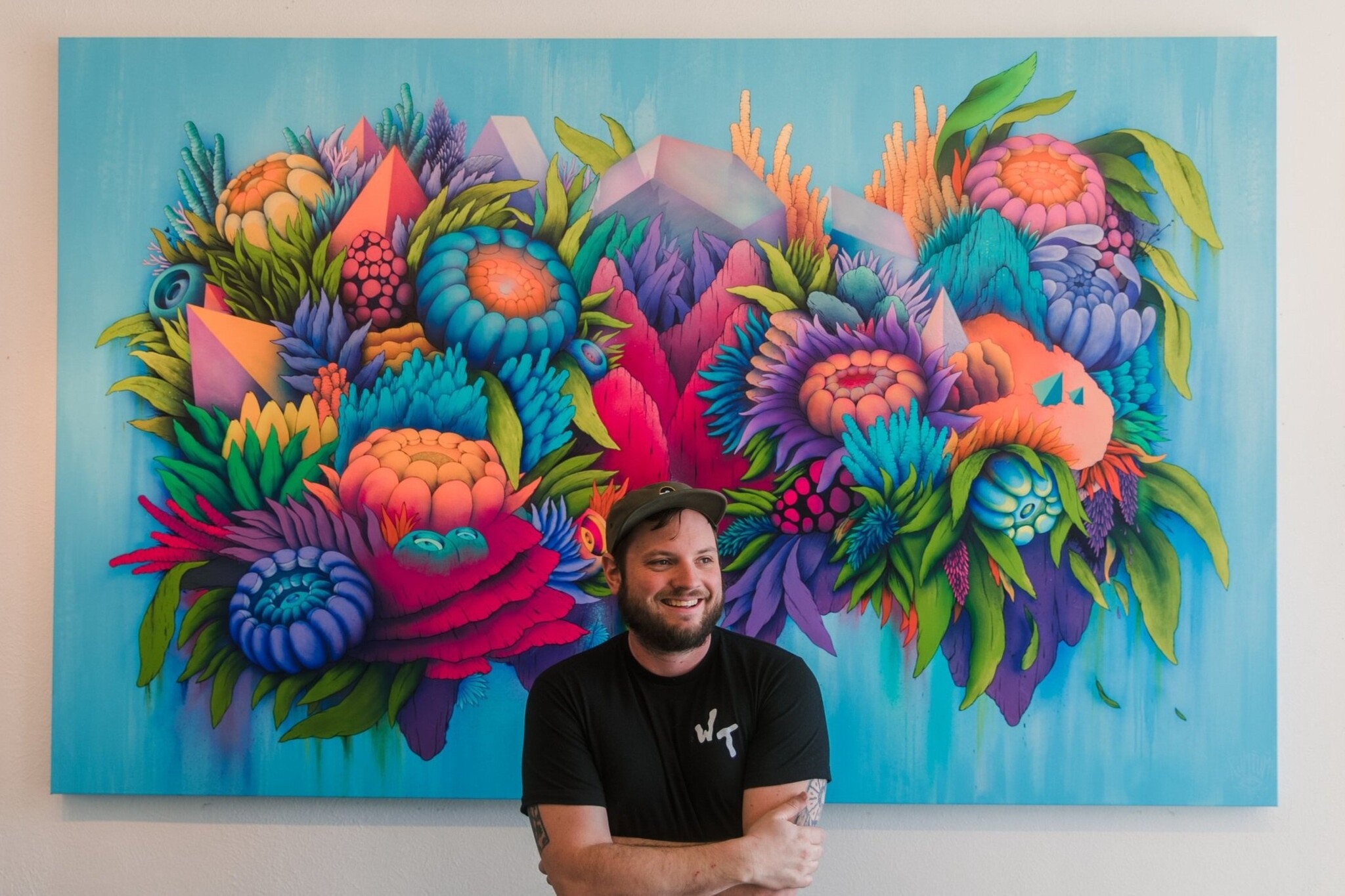 November's Featured Artist: John Hastings aka RUMTUM
Local Artistry Shines:
Originally from Cleveland, Ohio, John spent most of his time on the shores of Lake Erie. During this time, he developed a close relationship with the balance of human, animal, and plant life in the Erie habitat. This led to a deeper appreciation and fascination for the underwater world, its inhabitants, and the stunning environments they inhabit. The intricate shapes and designs seen in tropical plants and the mysterious ambiance of the deep sea became influential in his artistic creations. As a result, new fantastical creatures and enchanting scenes emerged, immersing viewers in a joyful and imaginative paradise.
The Language of Color:
RUMTUM is a master of color. His murals are symphonies of hues that speak to the heart of Colorado. From the rugged, earthy tones of the Rocky Mountains to the vibrant urban palettes of Denver, RUMTUM's color choices breathe life into his creations.
Escapism vs Reality:
Juxtaposing the ideas of escapism and reality, Hastings is always looking to broaden his knowledge of vegetation and explore new elements of landscapes. After graduating from Columbus School of Art and Design, he moved to Denver in 2010 and was introduced to a whole new artistic scene. Geography and the science of mapping play a crucial role in connecting Hastings to different places around the world, fueling his dreams of travel. RUMTUM eagerly anticipates the chance to capture these scenes in his artwork and incorporate fresh visual concepts into his creative world. As a passionate "weekend" biologist, Hastings is constantly expanding his understanding of atmospheres and habitats, pushing the boundaries of what is considered reality.
Exploring RUMTUM's Murals:
If you're in Colorado, particularly in the Denver area, take a mural tour of his work. Start with "The Age of Discovery" on South Broadway, which symbolizes the human urge to make sense of the world in all ways. Made in collaboration with fellow Abstract Artist Series artist Oak Bloak. Then make your way to Boulder and discover the Rayback Collective mural at The Rayback; a colorful representation of plant life here in Colorado. Don't forget to visit his other murals scattered throughout Colorado, each a unique chapter in the story of our state.
Community Collaboration:
RUMTUM believes in the power of collaboration. Many of his murals have been created in partnership with local artists, communities, schools, and organizations. This collaborative spirit not only brings the community together but also transforms public spaces into art installations that speak to the heart of Colorado.
Conclusion:
As November's cool breeze sets in, RUMTUM's artwork is an invitation to wander, explore, and appreciate the splendor of Colorado. His art is a tribute to our state's landscapes, seasons, and the vibrant tapestry of cultures that make it so unique. Each mural, painting, or print is a testament to the creative spirit that thrives in Colorado, and they remind us to cherish the beauty of our beloved Centennial State and this place we call home.
So, whether you're strolling through Denver's streets or exploring Colorado's scenic towns, keep an eye out for RUMTUM's murals. They are not just paintings on walls; they are stories, reflections of our community, and a celebration of the artistry that defines Colorado. This November, let's embrace the beauty and narratives that RUMTUM's murals offer, adding an extra layer of vibrancy to our journey through the heart of Colorado.
Check out RUMTUM's newest prints this First Friday in the Santa Fe Art District from 6pm-10pm. *The show will be up at the Santa Fe store for the entire month of November for those who can't make it down on First Friday.