Roots by Miguel Dominguez 11/6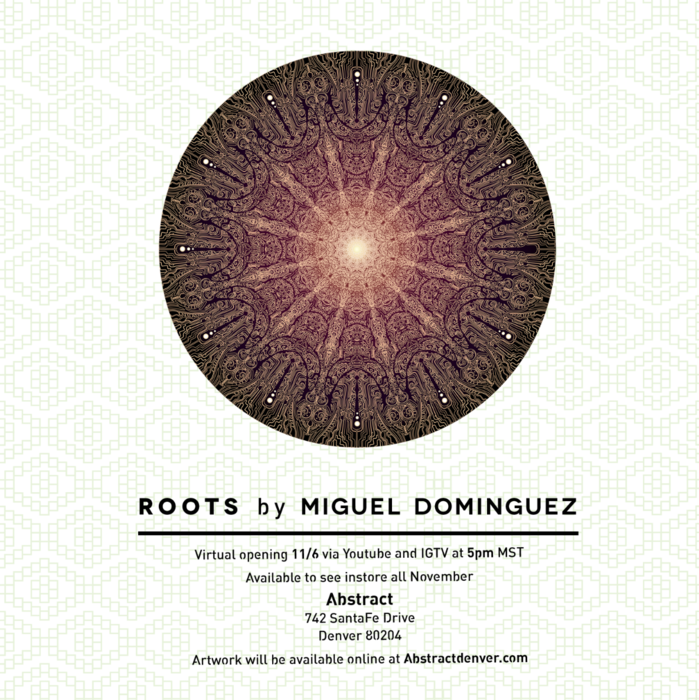 Take a ride back in time with paintings inspired by Miguel's own ancestral history. Aztec imagery can be seen as a heavy influence on Miguel's artwork. Accompanying his Aztec inspired works are his more contemporary themed works, such as his portrait of George Floyd and the Atlanta protests. Be sure to come and see his work in person at our Santa Fe location 7 days a week from 12- 6pm. Artwork available for purchase online and in-store.    
Check out our interview with Miguel here https://youtu.be/KaK22R6gRsU 
Give Miguel a follow on Instagram @migueldoesart
Miguel will be donating some of the proceeds of his artwork to:
RedLine was created to support emerging artists, and provide creative opportunities for local residents. RedLine serves as an incubator for a thriving group of resident artists, through an in-depth, two-year residency program that includes free studio space, community engagement opportunities, and professional development. The organization also offers a range of programming that responds to the needs of the varied communities that live in the surrounding neighborhoods. Viewing art and arts education through a lens of social issues, the organization ensures equitable access to the arts for under-resourced populations by working to fulfill a vision of empowering everyone to create social change through art.
Be the first to comment...