Joe Triscari, Lindsey Khun, and Brendan Moyles Dorney 8.7.20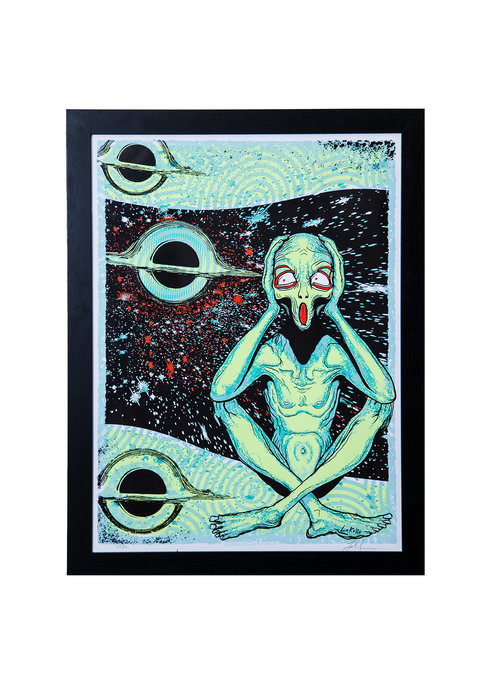 Brendan Moyles Dorney
Brendan Moyles Dorney, designer, artist, and screen printing wizard. Coming from an immigrant family and as a native New Yorker, Brendan grew up with a strong work ethic and more than a little hustle in his bones. From a young age, he always had endless curiosity and a strong desire to work with his hands. As a kid, he felt confined by school and couldn't help but draw on the walls. This need to express his creativity led him to pursue fine arts at F.I.T. Fashion Institute of Technology in NYC, exploring traditional mediums such as painting and drawing. After college, Brendan found his way into antique restoration as a woodworker, taking on high-end projects for museums, auction houses, and private collectors. While his journey took him in a roundabout way, owning a design and screen printing studio allows Brendan's traditional background to inform his work, while expressing his creativity in a new, innovative way. When he's not busy in the studio, you can find Brendan riding his Triumph Bonneville, playing and recording music to relax, or dive-bombing the mountains of Colorado on his snowboard.
Lindsey Kuhn
If there is a sublime correlation between art, music and skateboarding Lindsey Kuhn discovered it over 25 years ago. He fused these passions allowing him to embark on a successful career spanning three decades. He was born 1968 in Evanston, IL then relocated to the Mississippi Gulf Coast at an early age. He started screen-printing t-shirts in 1983 to pay for maintenance of his massive backyard skate ramp (largest in the south at the time). The popularity of his clever and provocative designs propelled him into the first phase of the life of a professional artist. Within a year of moving to Austin Texas in 1990, Kuhn started printing posters for Southern California based L'imagerie Gallery. L'imagerie financed a print shop in Austin which produced art for Robert Crumb, Ed Roth, Robert Williams, Joe Colman, Frank Kozik , Coop and others. Implementing this invaluable education Kuhn started to design and print posters of his own. He has worked with famous venues across the county like Jabberjaw, CBGB's, Emos's, Fillmore, The Metro, as a well as clubs around the world and of course in Denver.
Today, Kuhn is an artist of international distinction. He is best known for his original silk-screened rock posters for a wide variety of bands such as AC/DC, Jonny Cash, Tool, The Pixies, Devo, Pearl Jam, Eagles of Death Metal and hundreds more. His company Swamp, located in Denver, Colorado since 1997 also does custom printing and publishing for other artists. Kuhn's work has been featured in many tv shows, movies & books over the years. Most noteworthy are the "Art of Modern Rock" & "Lure of the SWAMP". "Lure of the Swamp" is the best compilation of the rock posters he's created throughout his career. Kuhn's work has received worldwide acclaim, including noteworthy shows in Japan, France, Switzerland, Germany, Argentina and many prominent galleries in America. He was also a featured artist in the documentary film, "American Artifact: The Rise of American Rock Poster Art" (2009).
His participation in the corporate domain features commissioned work for global entities such as Rhapsody, X-box, Camel, and Oakley. He also toured the SWAMP Art Exhibit with the "Southern Comfort Music Experience" for several years, displaying art & creating on the spot printing for each show.
Joe Triscari
Singular human makes limited edition things so you can be the envy of everyone whom you maintain shallow relationships.
http://moonlightspeed.storenvy.com/
Be the first to comment...